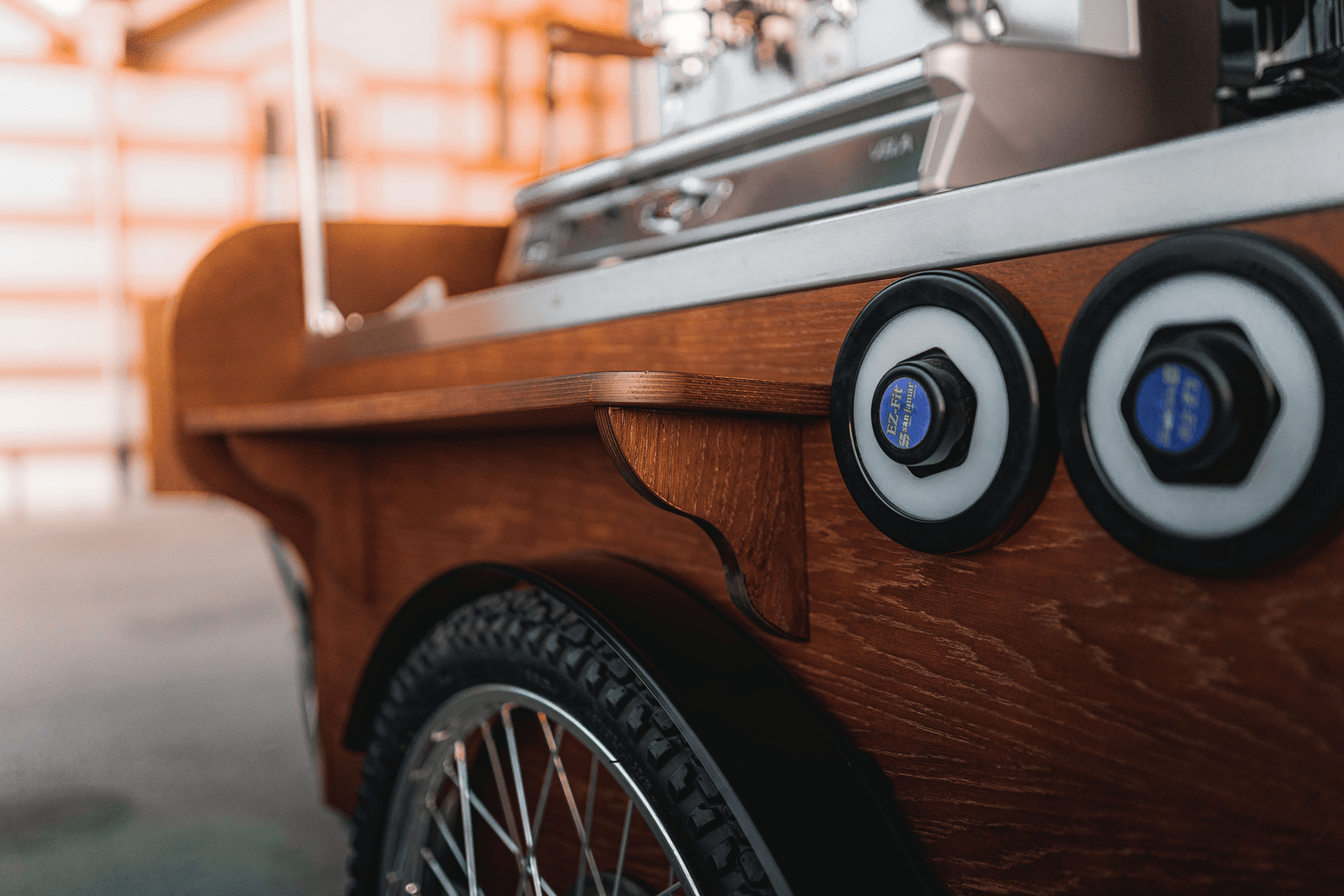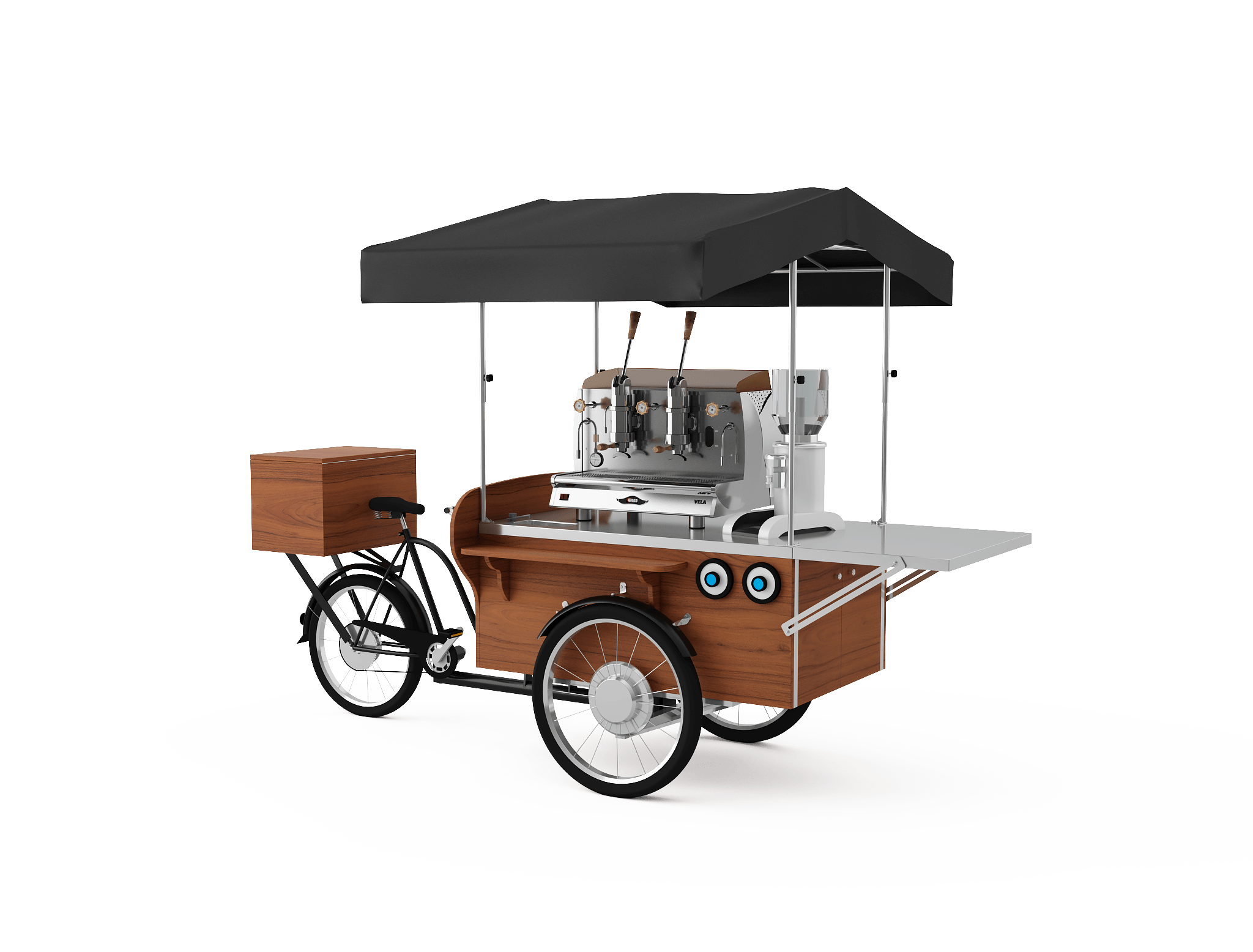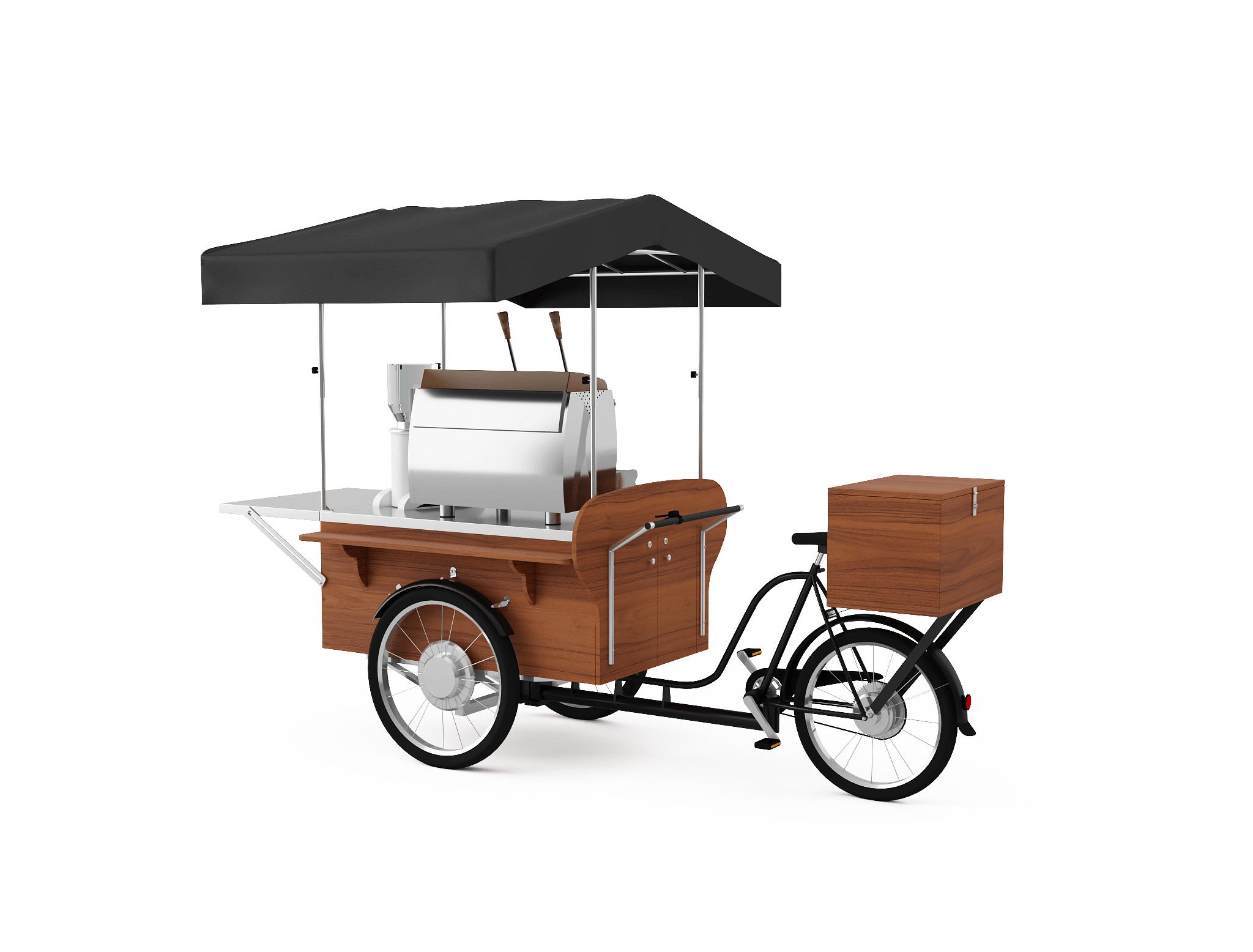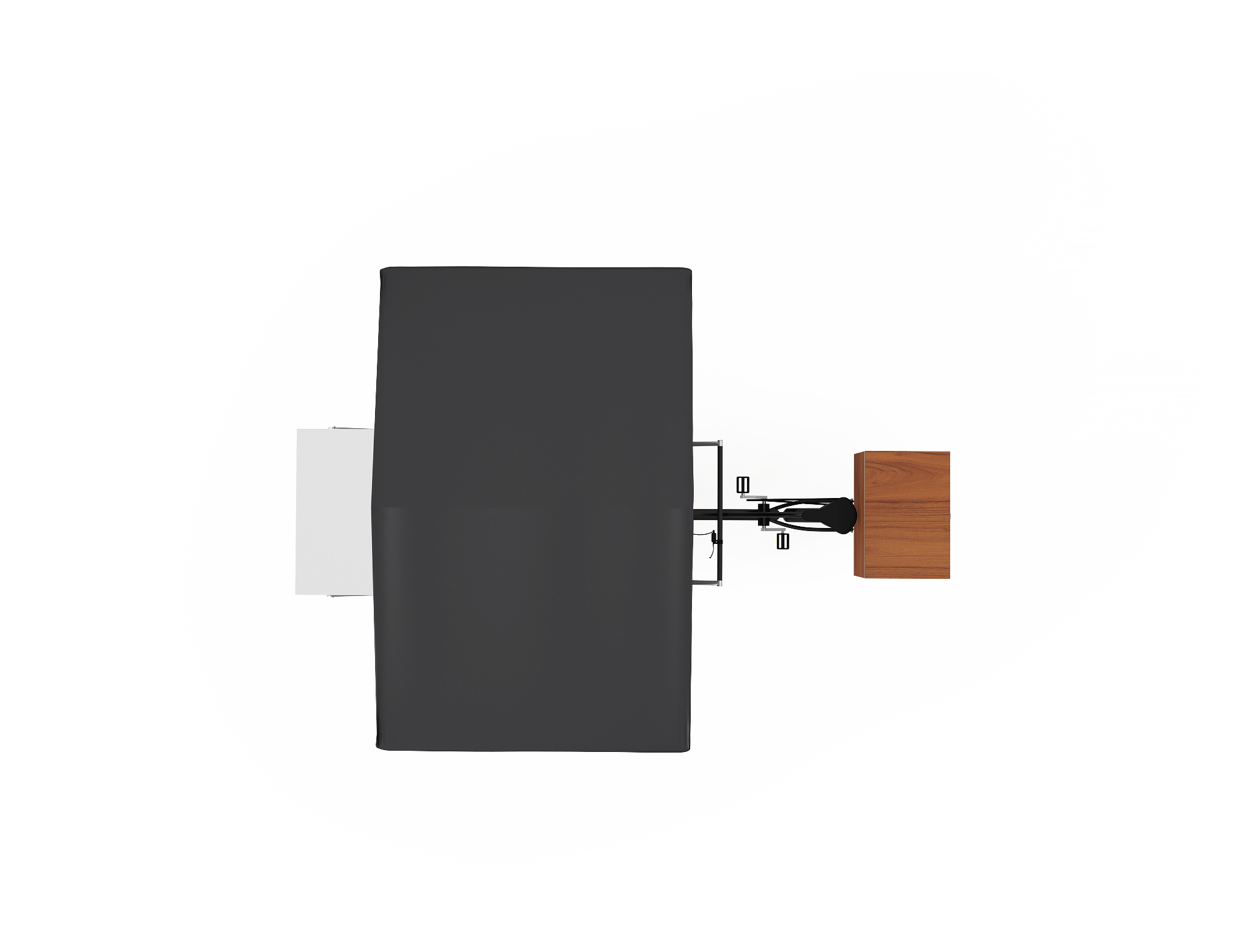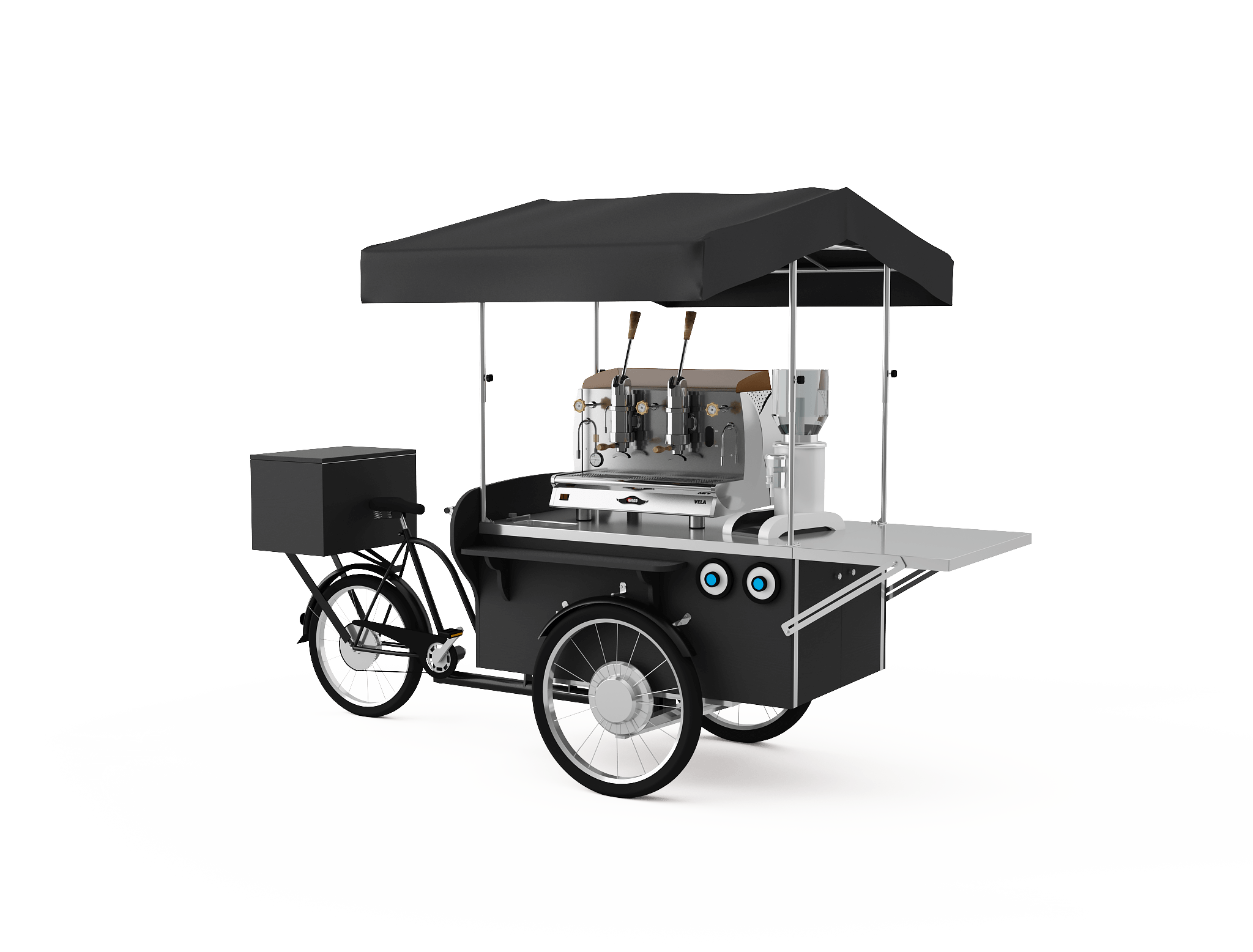 Description
A coffee bike has matched a city scenery long time ago. Classic design in combination with a unusual form of sale attracts hundreds of coffee lovers.
A basic coffee bike is made of waterproof, veneered plywood, includes a 2-groups gas-electric coffee machine, a coffee grinder, a water pomp, and an electrical installation.
Side shelves and cup dispensers facilitate everyday work, and a back carrier gives an additional storage space.
We designed water containers as well as an electrical installation in the front part of a bike so you can access them easily. You can refill the water containers and check the battery level anytime. Charging is extremely easy – all you need to do is to connect the installation to a plug using typical 230 V cable.
While ordering you can personalize your bike by choosing a type and a color of a box, and a color of a frame, mudguards, and a roof.
Box (mm): 1300x800x550 h
Bike (mm): 2520x1100x2200 ht
Height(with a folded roof) (mm): 1700 h
We designed strong wheels with a diameter of 60 cm which make moving around a city facile and comfortable.
Firm bike frame painted at any color
he double tube frame ensures stable driving as well as solidity of the whole construction. It's screwed to the front part of a bike so it can be disassemble easily during servicing or shipping. While placing an order, it is possible to choose a color of the bike frame (RAL color chart).
A huge pushing handle not only looks good but also facilitates riding on a bike. The handle is made of a round stainless steel profile and it will survive even the farthest trips.
A turning radius was optimized so a bike can easily cross the streets. Turning limiters are responsible for safety and guarantee stability of a bike.
Hydraulic brakes with an option of parking brake
The strongest brakes available on the market guarantee safe driving. A parking brake facilitates placing a bike while working.
Make your bike unique! You can choose from two different versions: waterproof plywood or steel painted in RAL pallet.
A roof is made of waterproof Cordura fabric. It is strong and resistant to mechanical damage. In order to wash the fabric, you can easily take it off from a frame. You can choose the color of the material, and moreover we can put your company logo on it.
The side shelves improve appearance of a bike and provide an additional space for accessories. The shelves are set in a special way which guarantees stability of the products which stands on them.
In order to make storage of bike as easy as possible, we designed folding side covers. Simply, you need to raise one element and the covers are folded.
A construction of a roof is made of circle profiles, and it can be folded easily. We designed strong lock to prevent from folding of a roof in an unexpected moment.
Possibility of removing of a roof
In order to facilitate transport and storage of a bike, we designed a removing roof. Simply, you need to turn some screws, and a roof is removed. Moreover, if you get bored of a color of a roof, you can easily replace it.
As the only company, in such a small space we managed such large storage space. A cabinet with a dimension of 760x850x70 h which can be opened in the front part of a bike, will hold all your products and accessories. A bottom part of a storage cabinet is perforated - it is extremely important in case of bike with gas supply.
To increase the quality, and to improve cleanliness of work, we designed a stainless steel top which is easy to clean and resistant to mechanical damage.
You can open all the cabinets using one master key. If the key is lost, we will provide you with a new set of keys.
A bike includes a built-in sink in which you may wash your hands, or some accessories. It is connected with water containers which you can refill and clean easily. A dirty water container can be cleared out by installed valve.
Easily removable for cleaning 18 litter containers
To increase a storage space, we add a box carrier to your bike. A folding cabinet with a dimension of 600x400x400 h may easily hold useful items.
You don't need to care about cups! We designed a special space where cup dispenser may be installed. Using special silicone caps, you may fit a dispenser to appropriate cup size
In our bike, we use reliable mobile power technology which consist of gel batteries, a charger, an a converter. Changing is extremely easy - all you need to do this is to connect the installation to a plug using typical 230 V cable; it last about 6 hours. The installation includes a display on which you can check the battery level.
A manual, or electrical coffee machine equipped witch a gas installation and built-in water pomp. According to your needs, a coffee machine may use a gas or electrical installation during working. You simply need to push a bottom to change a power supply.
To increase safety as well as stability, a coffee machine is screwed to a top. The screws are located in folding part under a coffee machine groups.
To increase safety as well as stability, a coffee machine is screwed to a top. The screws are located in folding part under a coffee machine groups.
At the front of the bike, we place an additional fold-out table top (55 cm), which increases the space of the space by more than 40%. Easy to unfold and fold the security system and latches.
Colours of wood

Waterproof, veneered plywood
Colour of material roof

Cordura
In our bikes we install electric engines.
Gliczarów Górny. One of the stages of Tour De Pologne. 5.4 km of extreme hill with a gradient of 16%. Is there any better place to check our bike?
E-bike is a great solution to support handling while transporting the bike. In gastronomic bikes the engines are mounted centrally which gives extraordinary results and makes work much easier. We recommend the E-bike for those who have to move frequently. Do you want to check how our electric drive is doing? We have prepared a video for you!